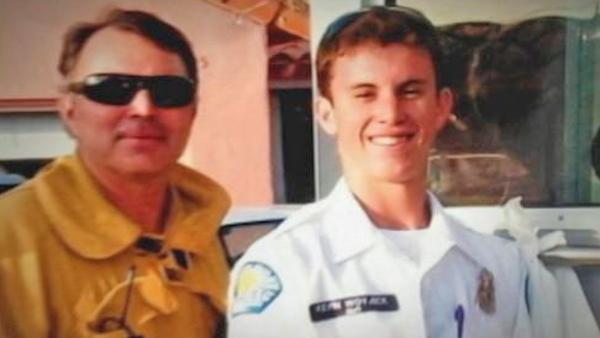 Kevin Woyjeck, 21, is shown in this undated file photo. Woyjeck was one of 19 firefighters who were killed battling a wildfire near Yarnell, Ariz.
For Woyjeck, the fire station was a second home. His father, Capt. Joe Woyjeck, is a nearly 30-year veteran of the Los Angeles County Fire Department. Keith Mora, an inspector with that agency, said Kevin often accompanied his dad to the station and on ride-alongs and always intended to follow in his footsteps.
'He wanted to become a firefighter like his dad and hopefully work hand in hand,' Mora said Monday outside of the fire station in Seal Beach, Calif., where the Woyjeck family lives.
Mora remembered the younger Woyjeck as a 'joy to be around,' a man who always had a smile on his face. He had been trained as an EMT and worked as an Explorer, which is a mentorship training program to become a professional firefighter.
'He was a great kid. Unbelievable sense of humor, work ethic that was not parallel to many kids I've seen at that age. He wanted to work very hard.'
As he spoke, Mora stood before an American flag that had been lowered to half-staff. His own fire badge was covered with a black elastic band, a show of respect and mourning for those lost in the line of duty.
(KABC Photo)