Entertainment

Regis and Kelly at Disneyland to help runner
Friday, February 25, 2011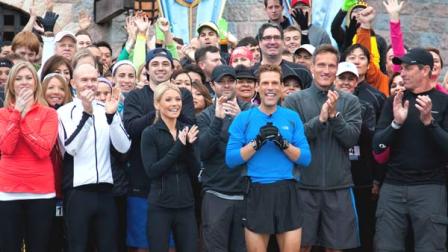 ANAHEIM, Calif. (KABC) -- "LIVE! With Regis and Kelly" was at Disneyland on Friday morning to help kick off a local marathoner's efforts to run coast to coast.
Dean Karnazes, 48, expects to average 50 miles of running per day, saying this was his most intense endeavor yet.
His efforts are for Action for Healthy Kids.
"It's to motivate and inspire kids to get more active, to get them physically moving," Kamazes said.
People can sign up to run with Kamazes by going to http://www.dadt.com/live/special/runacrossamerica/index.html. He will be running in Riverside on Saturday.
Karnazes' coast-to-coast run is scheduled to end on May 11 in New York City.
(Copyright ©2014 KABC-TV/DT. All Rights Reserved.)
disney theme park
,
talk show
,
charity
,
celebrity
,
children's health
,
entertainment

Copyright ©2014 ABC Inc., KABC-TV/DT Los Angeles, CA. All Rights Reserved.