Los Angeles News

Arraignment postponed for shooting suspect
Tuesday, June 15, 2010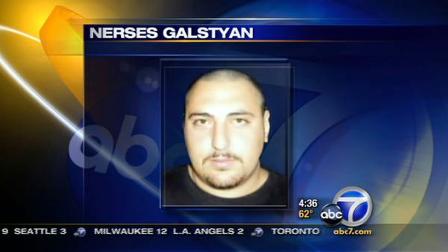 VALLEY VILLAGE, Calif. (KABC) -- The man charged with killing four men at a Valley Village restaurant in April was expected in court Tuesday, but his arraignment was postponed to July 6.
Nerses Galstyan faces charges of murder and mayhem for the killings.
Investigators say the 28-year-old was attending a private party April 3 at the Hot Spot Cafe, when an argument broke out.
They say that Galstyan opened fire with a semi-automatic handgun, killing four people and injuring two others.
Galstyan was arrested in Washington state after a two-week manhunt. Galstyan and his brother Samule were arrested in the northern Seattle suburb of Kenmore, Wash.
(Copyright ©2014 KABC-TV/DT. All Rights Reserved.)
lapd
,
north hollywood
,
san fernando valley
,
valley village
,
homicide investigation
,
murder
,
los angeles news
Copyright ©2014 ABC Inc., KABC-TV/DT Los Angeles, CA. All Rights Reserved.