Los Angeles News

FBI probes alleged inmate beating at Twin Towers jail
Wednesday, June 15, 2011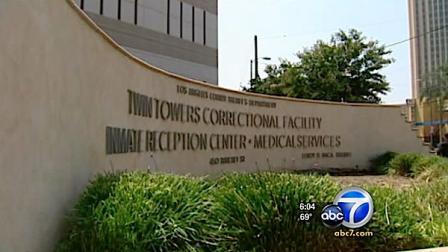 LOS ANGELES (KABC) -- The Federal Bureau of Investigation is looking into an alleged beating by a pair of Los County sheriff's deputies.
The probe centers around a January incident at the Twin Towers Correctional Facility.
An ACLU jail observer claims she saw two deputies beating and using a Taser on an inmate as he lay limp.
But an internal sheriff's log offers a different account. It says the inmate was combative and punched deputies.
Sheriff's department spokesman Steve Whitmore said he has no problem with the investigation.
The findings will be presented to the Department of Justice in Washington.
(Copyright ©2014 KABC-TV/DT. All Rights Reserved.)
department of justice
,
los angeles county sheriff's department
,
los angeles news

Copyright ©2014 ABC Inc., KABC-TV/DT Los Angeles, CA. All Rights Reserved.