Los Angeles News

LAPD widens number of cases linked to 'Grim Sleeper'
Wednesday, August 10, 2011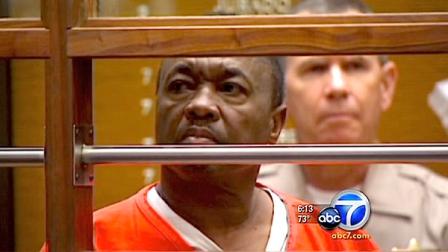 LOS ANGELES (KABC) -- Los Angeles police have reportedly widened the number of cases that may be linked to "Grim Sleeper" suspect Lonnie Franklin Jr. to as many as 230 missing persons and unsolved killings.
Franklin has pleaded not guilty to the murders of 10 women.
Detectives have already been looking at about 60 unsolved cases from the early 1980s until Franklin's arrest in July 2010.
Now investigators are looking into more cases in South Los Angeles, dating back to 1976 when Franklin got out of the army.
(Copyright ©2014 KABC-TV/DT. All Rights Reserved.)
homicide investigation
,
murder
,
sex crimes
,
south los angeles
,
downtown
,
los angeles news
1.

Copyright ©2014 ABC Inc., KABC-TV/DT Los Angeles, CA. All Rights Reserved.