Los Angeles News

Compton pursuit suspect caught by deputies
Thursday, May 31, 2012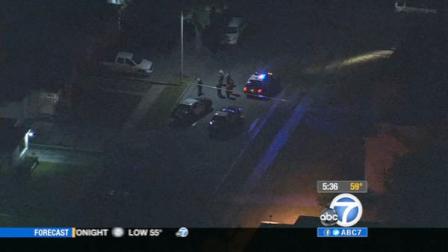 COMPTON, Calif. (KABC) -- Sheriff's deputies in Compton have captured a suspect who was involved in a pursuit and deputy-involved shooting in the 1100 block of South Dwight Avenue.
Deputies were responding to reports of loud music at about 10:30 p.m. Wednesday when they saw two vehicles driving without any lights on.
The deputies attempted to conduct a traffic stop on one of them, when the suspect bolted from the vehicle.
After a brief chase, the suspect produced what appeared to be a gun, and deputies fired. The suspect was not hit, and eventually surrendered. No deputies were injured.
(Copyright ©2014 KABC-TV/DT. All Rights Reserved.)
los angeles county sheriff's department
,
deputy-involved shooting
,
los angeles news

Copyright ©2014 ABC Inc., KABC-TV/DT Los Angeles, CA. All Rights Reserved.