Los Angeles News

Concealed residence found in county wildlife park
Tuesday, July 17, 2012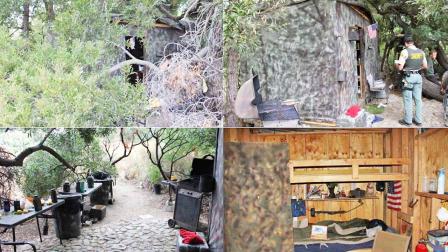 SUNLAND, LOS ANGELES (KABC) -- Los Angeles County Sheriff's Department Parks Bureau deputies found an occupied small structure built in a remote area of the Tujunga Ponds Wildlife Sanctuary Monday morning near the 210 Freeway and Wentworth Street in Sunland.
Eight cultivated marijuana plants were found near the structure.
Robert Downs, 51, was arrested for cultivating marijuana plants and for removing trees from a county park. He was held on $30,000 bond.
Downs told deputies he had lived in the park for more than a year. He began building the small structure about eight months ago with materials from Home Depot, and camouflaged the entire structure and surrounding area.
The structure had four bunk beds, tables, shelves and fire extinguishers on the walls. There was a rock patio, a barbecue grill and tables in front. Downs cut down surrounding trees and camouflaged the area using camo paint.
Sun Valley residents Aysen Gailer, 30, and Jorge Perez, 45, were issued by citations for county code violations and were released.
It is illegal to build structures or reside in a county park, and it is illegal to be in a park after dark.
(Copyright ©2014 KABC-TV/DT. All Rights Reserved.)
arrest
,
los angeles county sheriff's department
,
marijuana
,
marijuana growing
,
los angeles news

Copyright ©2014 ABC Inc., KABC-TV/DT Los Angeles, CA. All Rights Reserved.