Los Angeles News

Dead woman found in burned studio apartment in Canoga Park
Wednesday, November 14, 2012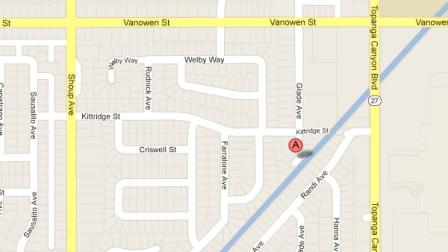 CANOGA PARK, LOS ANGELES (KABC) -- A dead woman was found in a burned apartment in Canoga Park Tuesday afternoon.
Los Angeles city firefighters were called to an apartment fire at a complex at 6331 N. Glade Ave. at 2:37 p.m. A studio apartment on the third floor of the complex was issuing black smoke.
Firefighters extinguished the blaze within 13 minutes, according to the department. The fire was contained to the one apartment.
During the subsequent search-and-rescue operation, firefighters found a 46-year-old woman sitting on the floor against a mattress in the apartment. She was pulled from the room but was declared dead at the scene.
There were no bars on windows or any other impediments to prevent the woman from escaping the apartment, according to the department. The 42-year-old apartment was not equipped with fire sprinklers.
The cause of the fire was under investigation, but the LAFD said there were no suspicious circumstances noted.
The woman's identity and cause of death were not released.
(Copyright ©2013 KABC-TV/DT. All Rights Reserved.)
fire
,
body found
,
los angeles city fire department
,
san fernando valley
,
los angeles news

Copyright ©2013 ABC Inc., KABC-TV/DT Los Angeles, CA. All Rights Reserved.