Los Angeles News

Tarzana hydroplane crash lands 4 in hospital
Sunday, January 27, 2013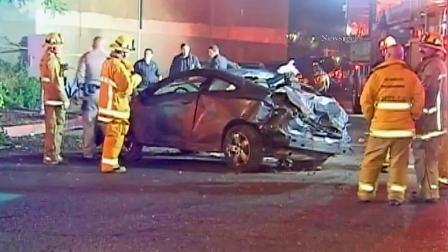 TARZANA, LOS ANGELES (KABC) -- Four people were hospitalized after a car crash in Tarzana, and the wet roads may be to blame.
The California Highway Patrol says a car with four people inside was going eastbound on the 101 Freeway when it hydroplaned.
The car went down an embankment, ejecting one person. Medics took all four people to the hospital. Their injuries were reported to be minor to moderate.
(Copyright ©2014 KABC-TV/DT. All Rights Reserved.)
car crash
,
california highway patrol
,
san fernando valley
,
rain
,
los angeles news

Copyright ©2014 ABC Inc., KABC-TV/DT Los Angeles, CA. All Rights Reserved.