Los Angeles News

Maywood vandalism suspect shot by deputies
Thursday, April 11, 2013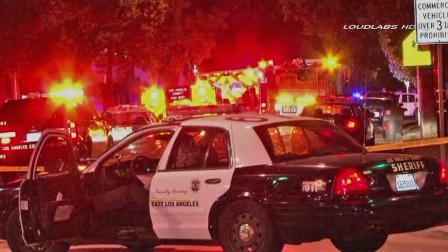 MAYWOOD, Calif. (KABC) -- Detectives are investigating a vandalism call that led to a deputy-involved shooting in Maywood.
The incident happened near Everett and East 58th Street, where Los Angeles County sheriff's deputies confronted a man and a woman at about 11:40 p.m. Wednesday.
Investigators say the man was acting suspicious and reached for his waistband. That's when deputies opened fire. The man, described as a 31-year-old, is expected to survive.
Officers found a large spray-paint can in his pocket, but no weapon.
Charges are pending against both suspects. No deputies were injured.
If you have any information about this incident, you're urged to contact the Los Angeles County Sheriff's Department's Homicide Bureau at (323) 890-5500.
(Copyright ©2014 KABC-TV/DT. All Rights Reserved.)
vandalism
,
deputy-involved shooting
,
los angeles county sheriff's department
,
los angeles news

Copyright ©2014 ABC Inc., KABC-TV/DT Los Angeles, CA. All Rights Reserved.