Los Angeles News

Westlake District water main break shuts Wilshire Boulevard lanes
Wednesday, June 12, 2013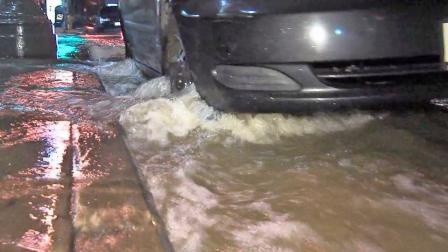 LOS ANGELES (KABC) -- A water main break sent water gushing across Wilshire Boulevard Wednesday morning, affecting surrounding customers.
The break was reported shortly before 4:30 a.m. on Wilshire Boulevard between Bixel Street and Lucas Avenue in the Westlake District.
As of 10:45 a.m., Wilshire Boulevard remained closed, as crews worked to fix the ruptured 8-inch main. Repairs were expected to be finished around 4 p.m.
The break caused a big mess, as water bubbled up from underground and rushed down the street. About 20 to 30 customers were affected.
The cause of the break remains unknown.
(Copyright ©2014 KABC-TV/DT. All Rights Reserved.)
water main break
,
road closure
,
traffic delay
,
los angeles news
,
john gregory

Copyright ©2014 ABC Inc., KABC-TV/DT Los Angeles, CA. All Rights Reserved.