Los Angeles News

Downtown LA Corvette chase suspect identified
Sunday, December 15, 2013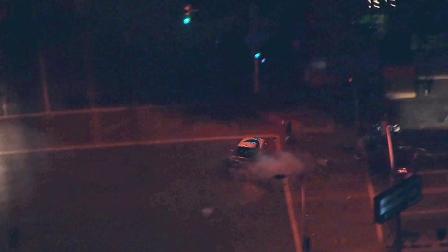 LOS ANGELES (KABC) -- The driver of a Corvette who was shot and killed after leading authorities on a chase that ended in downtown Los Angeles has been identified.
Brian Newt Beaird, of Oceanside, 51, was identified by the coroner. He was shot at the end of the chase by at least one officer.
The chase started Friday night in Cudahy, with the California Highway Patrol and sheriff's units chasing a reckless driving suspect in a silver Corvette. The Los Angeles police joined in when the chase reached downtown Los Angeles.
Shortly after that, the Corvette collided with a car at Olympic Boulevard and Los Angeles Street, and the other car sheared off a hydrant.
The Corvette driver got out and was shot. He died at the hospital.
(Copyright ©2014 KABC-TV/DT. All Rights Reserved.)
pursuit
,
downtown
,
car chase
,
car crash
,
officer-involved shooting
,
los angeles news

Copyright ©2014 ABC Inc., KABC-TV/DT Los Angeles, CA. All Rights Reserved.