Los Angeles News

405 Freeway car fire, crash snarl Sepulveda Pass commute
Friday, December 20, 2013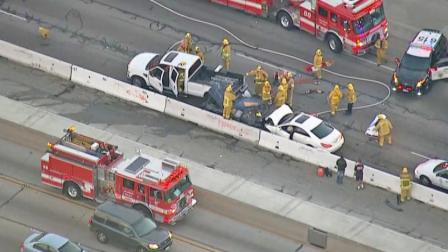 LOS ANGELES (KABC) -- Two accidents on the northbound and southbound 405 Freeway in the Sepulveda Pass snarled traffic for hours Friday morning.
Both accidents occurred almost directly across from each other near the Valley Vista exit leading to Ventura Boulevard.
The first incident, which resulted in a car fire, occurred on the southbound lanes at about 6:20 a.m. The accident shut down the carpool and two other lanes, according to CHP. All southbound lanes have since reopened.
About 15 minutes later, the second crash occurred in the northbound lanes. One person died and two others were transported to area hospitals in serious condition, authorities said. This crash involved four vehicles and shut down three southbound lanes. All lanes did not reopen until 11:30 a.m.
The name of the deceased individual was withheld pending family notification.
It's possible that smoke from the car fire distracted northbound drivers, triggering the fatal accident.
City News Service contributed to this report.
(Copyright ©2014 KABC-TV/DT. All Rights Reserved.)
traffic delay
,
car crash
,
fire
,
california highway patrol
,
los angeles news

Copyright ©2014 ABC Inc., KABC-TV/DT Los Angeles, CA. All Rights Reserved.