Los Angeles News

Barricaded suspect shot to death by LAPD
Tuesday, January 14, 2014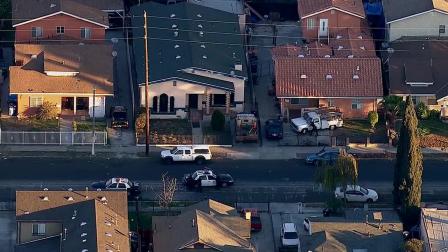 SOUTH LOS ANGELES (KABC) -- A robbery suspect was shot and killed by police officers following a barricade situation in South Los Angeles Tuesday.
Authorities say the suspect robbed a person at gunpoint in the 5900 block of Wilshire Boulevard at about 5:30 a.m. He fled the scene and was last seen entering a home in the 1000 block of W. 62nd Street.
Officers surrounded the house, ordering the suspect to come out, but he refused.
The suspect was then shot in an officer-involved shooting at about 8 a.m., but it was unclear what sparked the confrontation. The suspect was declared dead at the scene.
Police said all hostages were safe, but it was unclear how many people were in the home at the time.
(Copyright ©2014 KABC-TV/DT. All Rights Reserved.)
standoff
,
robbery
,
officer-involved shooting
,
south los angeles
,
los angeles news

Copyright ©2014 ABC Inc., KABC-TV/DT Los Angeles, CA. All Rights Reserved.