Orange County News

Southwest Airline bomb threat phone call probed by FBI
Wednesday, May 09, 2012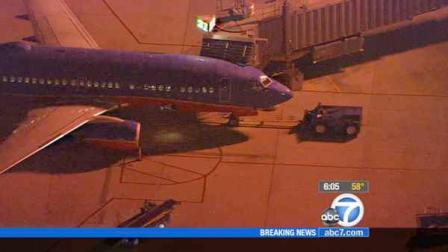 SANTA ANA, Calif. (KABC) -- The FBI is investigating a threatening phone call that grounded a Southwest Airlines flight from Orange County to Phoenix, Ariz.
The plane was supposed to take off from John Wayne Airport Tuesday night when a threat of a possible explosive or hazardous material was called in to a law enforcement agency.
Neither the FBI nor the TSA gave specifics on the phone call, except to say it was a "non-specific" threat.
Southwest grounded flight 811 because of the threat. Passengers got off the plane, and the Orange County bomb squad was called in to search the jet. Nothing was found.
Southwest also checked out two more flights on that Orange County-to-Phoenix route. Flight 1184 was cleared after it landed safely in Phoenix. Flight 372 was held at the Phoenix airport after it landed. Passengers were allowed to deplane after flight 1184 was cleared.
The Associated Press contributed to this report.
(Copyright ©2014 KABC-TV/DT. All Rights Reserved.)
airline
,
airplane
,
airport news
,
airport security
,
tsa
,
orange county news

Copyright ©2014 ABC Inc., KABC-TV/DT Los Angeles, CA. All Rights Reserved.