ABC7 Traffic Center

6 bicyclists beat $4 JetBlue flight in race during Carmageddon
Sunday, July 17, 2011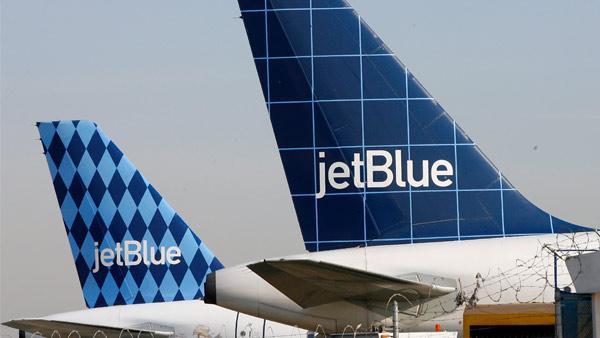 LONG BEACH, Calif. (KABC) -- Six bicyclists won their race with a JetBlue flight that traveled from Burbank to Long Beach during Carmageddon weekend.
Members of the bicycle group, Wolfpack Hustle, took 1 hour and 34 minutes to complete their journey from North Hollywood to Long Beach, according to the group's Twitter page.
The cyclists were raising money for the Los Angeles County Bicycle Coalition.
"We just raised $7000 for @lacbc hope that means LA River rides are free for life," Wolfpack Hustle
tweeted
.
The JetBlue flight, which offered $4 tickets for people trying to beat the 405 Freeway closure, arrived in Long Beach an hour after the bicyclists.
"We've got to hand it to you for beating our flight today, @wolfpackhustle and kudos for raising $7000 for @lacbc. Nice going!" JetBlue tweeted.
Beat Carmageddon with ABC7
The 405 shuts down the weekend of July 16-17, and ABC7 Eyewitness News is your home for the latest traffic news and information. Follow @abc7 and @BeatCarmageddon on Twitter, and use the hash tag #abc7traffic.
ABC7 has also partnered with Waze to help navigate the traffic. Download the Waze app, which provides free turn-by-turn GPS navigation based on the live conditions of the road. Join the community of drivers in Southern California today and beat Carmageddon.
Check out the latest Carmageddon coverage from abc7.com
(Copyright ©2014 KABC-TV/DT. All Rights Reserved.)
Get more ABC7 Traffic Center »
carmageddon
,
I-405 closure
,
construction
,
road closure
,
medical emergency
,
los angeles city fire department
,
abc7 traffic center

Carmageddon - 405 closure
Copyright ©2014 ABC Inc., KABC-TV/DT Los Angeles, CA. All Rights Reserved.