ABC7 Traffic Center

1 dead in violent 3-car crash on PCH in Malibu
Saturday, October 27, 2012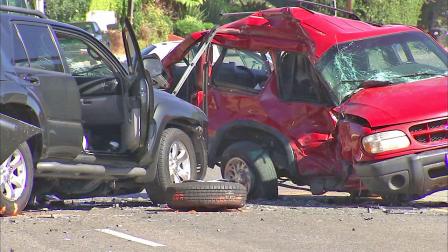 MALIBU, Calif. (KABC) -- Pacific Coast Highway reopened in Malibu on Saturday afternoon after a deadly crash led to an hours-long closure.
The accident happened just after 8 a.m. on an S-curve near Rambla Pacifico Street.
The sheriff's department says a southbound vehicle crossed into opposing lanes, causing a violent crash. One of the cars went spinning and hit a third car.
All three cars were within the speed limit; speed was not a factor in the crash.
(Copyright ©2014 KABC-TV/DT. All Rights Reserved.)
Get more ABC7 Traffic Center »
car crash
,
pacific coast highway
,
malibu/pacific palisades
,
abc7 traffic center

Copyright ©2014 ABC Inc., KABC-TV/DT Los Angeles, CA. All Rights Reserved.