AG Watch

Tomato agreement with Mexico may cause price hike
Tuesday, February 12, 2013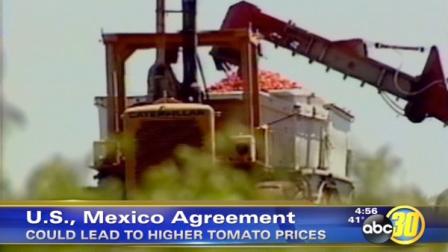 FRESNO, Calif. (KFSN) -- A recent agreement between the U.S. and Mexico could cause tomato prices to rise.
The two countries reached a deal last week to set minimum prices for tomatoes imported from Mexico. That's expected to translate into an increase of prices for Mexican tomatoes of about ten cents per pound.
Agriculture Secretary Tom Vilsack said the agreement will restore stability and confidence to the U.S. tomato market and ensure fair trade.
(Copyright ©2014 KFSN-TV/DT. All Rights Reserved.)
ag report
,
tomato
,
mexico
,
united states department of agriculture
,
ag watch

Copyright ©2014 ABC Inc., KFSN-TV/DT Fresno, CA. All Rights Reserved.