AG Watch

Judge: California Raisin board formed illegally
Thursday, May 02, 2013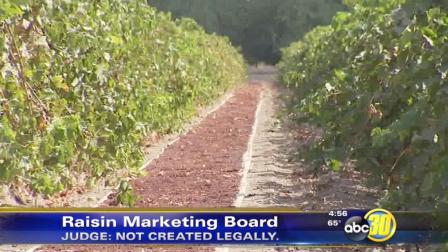 FRESNO, Calif. (KFSN) -- The future of the Fresno-based, California Raisin Marketing Board may be in jeopardy after a judge has ruled the organization was not created legally.
A group of growers and packers -- unhappy with marketing fees -- challenged the California Department of Food and Agriculture. They claimed the organization's board did not meet the appropriate requirements when it formed 15 years ago.
The board is responsible for promoting California raisins around the country.
(Copyright ©2014 KFSN-TV/DT. All Rights Reserved.)
ag report
,
grape - raisin
,
california department of food and agriculture
,
ag watch

Copyright ©2014 ABC Inc., KFSN-TV/DT Fresno, CA. All Rights Reserved.