Local

Joel B. Wahlenmaier Memorial Highway
Saturday, October 22, 2011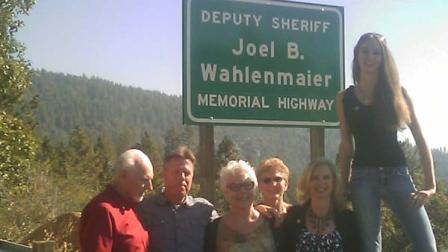 FRESNO COUNTY, Calif. (KFSN) -- Grief mixed with pride as Fresno County sheriff Margaret Mims dedicated a highway to one of her deputies who was killed in the line of duty.
Homicide detective Joel Wahlenmaier was shot during a standoff in Minkler last year, as was Reedley police officer Javier Bejar.
Friday, several miles of Highway 168 were dedicated in Wahlenmaier's honor. Wahlenmaier died along Highway 180, but his family and longtime friends all told Action News -- Highway 168 was the right place for this honor.
Amy and Austin Wahlenmaier unveiled the sign dedicating a portion of Highway 168 to their father Joel, a Fresno County homicide detective killed in the line of duty in Feb. 2010. Family members wore their emotions on their sleeves, and fellow detectives who were alongside Wahlenmaier in Minkler that day say they'll never forget.
"He's one of those one in a million kind of guys and we miss him dearly," said Sgt. Leo Lopez, who heads the homicide unit of the Fresno County sheriff's office.
The sheriff's office has found several ways to memorialize the man friends called "Wally" -- from here in Fresno, all the way to Washington, D.C. Now, Sheriff Mims says the highway is a permanent reminder of Wally's service.
"Joel died while protecting the public of Fresno County and these signs will be in honor of his sacrifice," she said.
From a sign near the bottom of the four-lane all the way up to Ockenden Ranch Rd., the highway is now a memorial to Wahlenmaier. His widow says the location is the perfect one to pay him tribute.
"If any highway could tell a story about Joel, it would be 168," said Beverly Wahlenmaier. "This is where he spent summers as a child. This is where we came when we were together. We went skiing."
Wahlenmaier's parents and siblings traveled up the four-lane to see the new signs after the dedication ceremony ended. His widow says she still frequents the mountain road, and now each trip will bring difficult memories.
"It will be emotional," she said. "But I'll just kiss him and go on. We will go on."
Friends and family members have recently found one more way to remember Wahlenmaier. They've started two $1,000 scholarships in his name at his old school, Reedley College.
(Copyright ©2014 KFSN-TV/DT. All Rights Reserved.)
minkler
,
shaver lake
,
auberry
,
fresno county
,
sheriff margaret mims
,
local
,
corin hoggard

Copyright ©2014 ABC Inc., KFSN-TV/DT Fresno, CA. All Rights Reserved.