Local

WANTED: William "Billy" Davis, for financial elder abuse, burglary
Saturday, November 19, 2011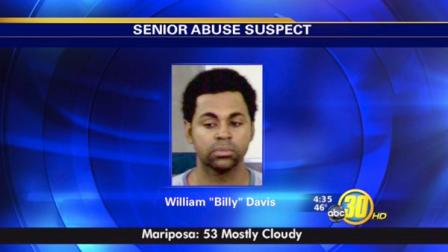 FRESNO, Calif. (KFSN) -- A man wanted for taking money from elderly people is also suspected of stealing from a stranger.
Investigators are looking for 32-year-old William "Billy" Davis. He's accused of burglary and financial elder abuse.
Detectives say Davis showed up at a home in Fresno County and asked the homeowner to use the phone, because someone broke into his car.
The homeowner was later contacted by his credit card company about several suspicious transactions. That's when he discovered his wallet and other items were missing.
Anyone with information about Davis' whereabouts is asked to call the Fresno County Sheriff's Department.
(Copyright ©2014 KFSN-TV/DT. All Rights Reserved.)
fresno county sheriff department
,
fresno county
,
fresno
,
crimetracker
,
local

Copyright ©2014 ABC Inc., KFSN-TV/DT Fresno, CA. All Rights Reserved.