Local

Up close look at the world of auto theft
Friday, February 03, 2012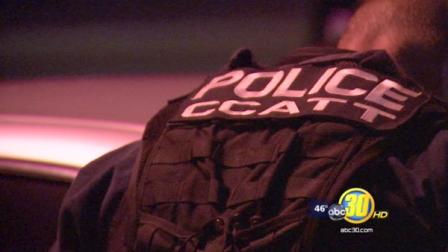 FRESNO, Calif. (KFSN) -- Just one day after officers tracked down four stolen SUV's from Lithia Nissan, they recovered another car reportedly stolen from the Lithia Mitsubishi lot right across the street. They also arrested suspects allegedly responsible for dozens of car thefts city wide.
During a briefing at a discreet Northwest Fresno parking lot Thursday night, Fresno's C-CAT team laid out plans to take down a prolific auto thief. On Wednesday, he allegedly broke into a sheriff deputy's car and stole ammunition, a bullet-proof vest, as well as a shield. Officers spotted the suspect outside a Northwest Fresno liquor store. They found meth and a lock pick set in the suspect's possession.
"It's for getting in cars, getting in houses, just picking locks."
A search of his nearby home, revealed seven stolen ammunition magazines.
"Law enforcement magazines, handgun magazines."
Just minutes later, on the same part of town, the C-CAT team caught up with this man. He is a prolific auto thief, responsible for anywhere between 10 and 15 thefts a month. This time, he was in possession of a car stolen right off of the Lithia Mitsubishi lot.
Sgt. Timothy Tietjen said, "This is a money adventure. It's not just a joy ride, like you might think. They're taking it down, they're taking the parts of the car, and they're selling it on Craig's list, on eBay."
The C-CAT team has only been around since January of 2011. This time last year, there had been 577 cars stolen within the City of Fresno. This year, that number has dropped to 330. And while early jail releases have posed a significant challenge, teams, like C-CAT say: "We do see the rates staying down in spite of that, and we're fighting an uphill battle, but you know, we're going to keep going in the right direction."
In the last three weeks, the C-CAT team has arrested 35 prolific auto thieves. About 75-percent of them have already been released. As for how car dealerships are dealing with recent thefts, Fresno's Help Eliminate Auto Theft, or HEAT Team, has offered to come out and give dealers some expert advice.
(Copyright ©2013 KFSN-TV/DT. All Rights Reserved.)
crimetracker
,
auto theft
,
fresno police department
,
fresno
,
fresno county
,
local

Copyright ©2013 ABC Inc., KFSN-TV/DT Fresno, CA. All Rights Reserved.