Local

Man who stole plane was on meth when he crashed in Fresno
Monday, February 13, 2012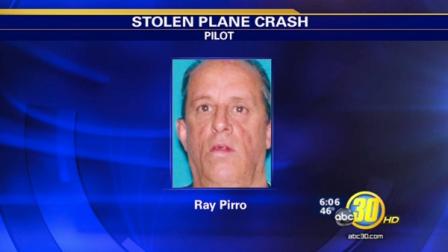 FRESNO, Calif. (KFSN) -- The Fresno County coroner's office says Ray Pirro, 52, of Tracy -- had high levels of methamphetamine in his system when he crashed the stolen aircraft.
Pirro was flying a single-engine plane that went down near Barstow and Garfield Avenues on February 5th. He was killed on impact.
Investigators later determined the aircraft was taken from an airfield in the Bay Area community of Concord.
The cause of the crash remains under investigation.
Fresno County Coroner Dr. David Hadden told Action News -- Pirro had so much meth in his system he would have been incapable of controlling an airplane.
(Copyright ©2014 KFSN-TV/DT. All Rights Reserved.)
plane crash
,
crimetracker
,
theft
,
bay area
,
tracy
,
fresno
,
fresno county
,
fresno northwest
,
local

Copyright ©2014 ABC Inc., KFSN-TV/DT Fresno, CA. All Rights Reserved.