Local

Man arrested in Fresno kidnapping, carjacking case
Monday, July 09, 2012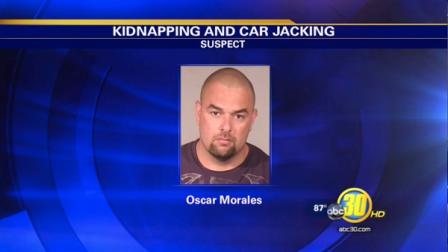 FRESNO, Calif. (KFSN) -- Fresno Police have arrested a man for allegedly kidnapping a person, robbing him, and then taking his car.
The kidnapping and carjacking happened June 28th at a Carl's Junior restaurant at McKinley and Abby in Central Fresno. Police say the victim has a business that consists of purchasing and selling gold.
Investigators say 36-year-old Oscar Morales called the victim claiming to have gold to sell. During the transaction, he allegedly pointed a gun at the victim's head and kidnapped him. The victim was taken a short distance away, then robbed and car-jacked.
Sunday morning officers arrested Morales at a motel in Selma. They say he is a known gang member and has previous convictions for car jacking and kidnapping.
(Copyright ©2014 KFSN-TV/DT. All Rights Reserved.)
kidnapping
,
carjacking
,
selma
,
fresno
,
fresno county
,
fresno central
,
local

Copyright ©2014 ABC Inc., KFSN-TV/DT Fresno, CA. All Rights Reserved.