Giants Victory Parade Highlights
San Francisco really knows how to throw a party! Giants fans wore their hearts on their sleeves all season and were finally able to celebrate victory with the World Series Champions.
In case you missed any of the celebration, ABC7 has parade highlights here. You can find Giants exclusive stories, player interview videos, and fan photos all in one place. Relive the celebration!

Best of Parade: "Highlight Montage"
Some of our favorite moments from the 2012 Giants World Series Victory Parade!



Best of Parade: "Timelapse"
Watch the entire Giants Victory Parade in less than 30 seconds!



Best of Parade: "Slow Clap"
The Giants bring the dugout to the crowd!


SHOW YOUR LOVE FOR THE SAN FRANCISCO GIANTS!
On our ABC7 News Facebook page, we've provided free badges for you to display your Giants pride. Click on any of the images and share on your wall!



Parade Map
The Giants' Victory Parade started at the foot of Market Street and end at the Civic Center Plaza: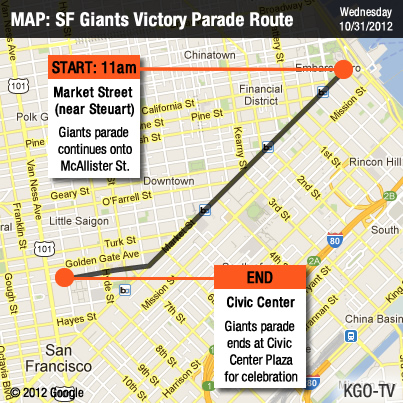 View Giants victory parade map, San Francisco in a larger map

Road Closures

SFMTA has provided a map that includes road closures.

Mission Street, from 9th Street to The Embarcadero, is closed to all vehicles except public transit and public safety vehicles.


Transit Options


MUNI
Muni will run some extra Metro trains, but will also have to detour a lot of buses.

BART
BART will have longer trains and more of them all day for the parade. They will be on a rush-hour schedule all day.

Caltrain
Caltrain will run a few extra trains before and after the parade.

Golden Gate Ferry information
Golden Gate Ferry will provide extra service to the Ferry Building.

San Francisco Bay Ferry and Vallejo Baylink Ferry
They have not posted plans yet, but we will update that information as it becomes available.


NOSTALGIA: Relive the 2010 Parade
>> Watch more videos from the 2010 parade

Fans sing along to 'Don't Stop Believin''
Jubilant fans and Steve Perry sing along to the song that became an anthem for the Giants this season.