Local News

Red Cross short on blood donations due to weather
Wednesday, January 08, 2014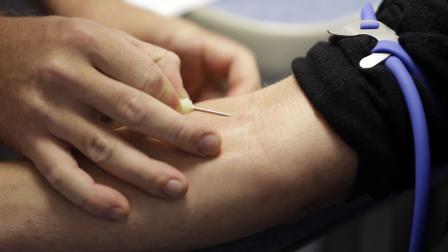 The American Red Cross is calling on blood donors to come forward as nearly 300 blood drives around the country have been cancelled because of severe weather.
The Red Cross especially needs platelet donors and people with Types O, Type A Negative, and Type B Negative blood.
Local Red Cross Blood Centers are extending their hours. From Jan. 10 through Jan. 20, the donation centers below will open 30 minutes early Tuesday through Thursday and stay open an extra 30 minutes Friday through Monday.
Extended hours:
Oakland Blood Donation Center
Pleasant Hill Blood Donation Center
Pleasanton Blood Donation Center
Newark Blood Donation Center
San Jose Blood Donation Center


Donation opportunities:
Jan. 8 from 1 p.m. to 5 p.m.
Sports Basement, 610 Old Mason St. in San Francisco
Jan. 9 from 11 a.m. to 4 p.m.
Northridge Mall, 796 Northridge Mall in Salinas
Jan. 9 from noon to 6 p.m.
Laurel Ridge Community Church, 2459 Laurel Road in Oakley
Jan. 9 from 1 p.m. to 6 p.m.
First Baptist Church 8455 Wren Avenue in Gilroy
Jan. 10 from 9 a.m. to 2 p.m.
Twin Lakes Church, 2701 Cabrillo College Drive in Aptos
Jan. 10 from 9:30 a.m. to 3:30 p.m.
Calvary Church, 16330 Los Gatos Boulevard in Los Gatos
Jan. 10 from 10 a.m. to 4 p.m.
Berkeley Espresso, 1900 Shattuck Avenue in Berkeley
Jan. 11 from 10 a.m. to 3 p.m.
Stone Church of Willow Glen, 1937 Lincoln Avenue in San Jose
Jan. 11 from 10 a.m. to 4 p.m.
St. Anthony Church, 1535-16th Avenue in Oakland
Jan. 11 from 10 a.m. to 4 p.m.
Starbucks, 1540 Fitzgerald Drive in Pinole
Jan. 11 from 11 a.m. to 4 p.m.
King City Recreation Center, 401 Division Street in King City
(Copyright ©2014 KGO-TV. All Rights Reserved.)
freeze
,
rain
,
storm
,
snow
,
transportation
,
travel
,
power outage
,
local news

Copyright ©2014 ABC Inc., KGO-TV San Francisco, CA. All Rights Reserved.