East Bay News

Obama campaign office cleaned up following protest
Saturday, August 04, 2012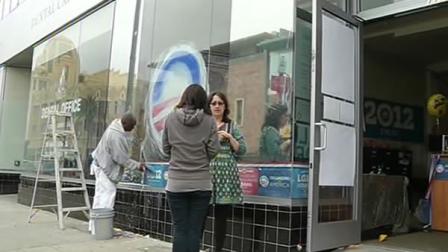 OAKLAND, Calif. (KGO) -- Crews replaced windows Saturday at President Barack Obama's campaign headquarters in downtown Oakland after protestors smashed the office's windows the night before. The wooden boards were replaced and despite the repair work, it was business as usual at the office.
The vandalism happened Friday around 9 p.m. Oakland police say several car windows were also smashed during an Occupy Oakland march.
"And they started yelling and yelling," Obama 2012 campaign worker Tommy Perry said. "Then they started shooting the paintballs, throwing rocks, and one guy had some little thing and started busting out the window. You can see I got paint all over me and everything."
Some campaign workers think the backlash toward the Obama campaign stems from the recent federal crackdown on medical marijuana dispensaries.
Oakland police followed the marchers but made no arrests. There were no injuries.
(Copyright ©2014 KGO-TV. All Rights Reserved.)
barack obama
,
oakland
,
protest
,
occupy movement
,
occupy oakland
,
vandalism
,
east bay news

Copyright ©2014 ABC Inc., KGO-TV San Francisco, CA. All Rights Reserved.