North Bay News

Firefighters battling four wildfires in Sonoma and Napa Counties
Wednesday, May 01, 2013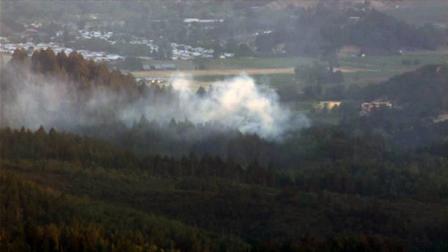 NAPA COUNTY, Calif (KGO) -- CAL FIRE crews are working on four wildfires in Napa and Sonoma Counties this morning. Some of the smoke blew into San Francisco and parts of the Bay Area from gusting overnight winds.
Three of the fires are burning right now at Knights Valley in Sonoma County, near Highway 128 and Yellow Jacket Ranch Road. The fires were started by a downed powerline. Those fires are estimated to be 200 acres. Winds gusts of up to 56 mph overnight helped fan the flames.
The fourth fire is in Yountville, near Silverado Trail and Oakville Crossroad. About 75-100 firefighters have been battling the 50 acre blaze and it is about 40 percent contained. The wildfire burned a barn, but no other structures are being threatened.
(Copyright ©2013 KGO-TV. All Rights Reserved.)
wildfire
,
fire
,
napa county
,
sonoma county
,
north bay news
,
amy hollyfield

Copyright ©2013 ABC Inc., KGO-TV San Francisco, CA. All Rights Reserved.