North Bay News

Lucky ducks rescued by Marin Co. Sheriff's Deputy
Thursday, May 09, 2013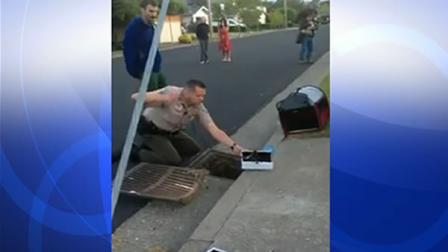 SAN RAFAEL, Calif. (KGO) -- Several ducklings got stuck in a storm drain in San Rafael earlier this week.
Celeste Parcell saw the animals and flagged down Marin County Sheriff's Deputy Joe Messey.
He rigged a rescue device out of a shoe box, lowered it into the hole and pulled out the little critters one by one.
The ducklings quickly scurried back to their mom waiting nearby.
(Copyright ©2013 KGO-TV. All Rights Reserved.)
san rafael
,
marin county
,
animal
,
animals in peril
,
rescue
,
north bay news
1.

Copyright ©2013 ABC Inc., KGO-TV San Francisco, CA. All Rights Reserved.