North Bay News

Inspectors believe leak caused mysterious landslide
Thursday, May 16, 2013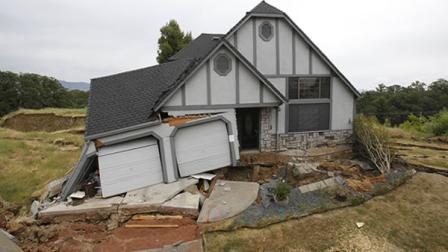 LAKEPORT, Calif. (KGO) -- Geological inspectors believe a water leak played a role in a mysterious landslide in Lake County that nearly swallowed an entire hillside neighborhood.
The chief of the flood operations branch of the California Department of Water Resources says the soil was saturated with water. The problem is related to the utilities and he plans to submit a report Thursday.
The community is located about 100 miles north of San Francisco. An emergency was declared there in March after the ground gave way and homes began to sink.
(Copyright ©2014 KGO-TV. All Rights Reserved.)
lake county
,
clearlake
,
water
,
construction
,
housing market
,
north bay news

Copyright ©2014 ABC Inc., KGO-TV San Francisco, CA. All Rights Reserved.