Peninsula News

Missing Mojave Memorial Cross returned to original site
Monday, November 12, 2012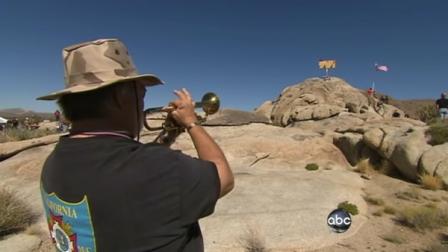 SAN MATEO COUNTY, Calif. (KGO) -- A missing historic cross found in the Bay Area is now back home in the Mojave Desert.
A group of veterans returned the cross to its original site Sunday.
The cross was erected in 1934 at "Sunrise Rock" in San Bernardino County to honor veterans killed in war.
Two years ago, it was cut off its metal base and stolen after a long court battle over its legality on public land.
Thanks to a viewer tip, an ABC7 News crew found it last week in San Mateo County.
(Copyright ©2014 KGO-TV. All Rights Reserved.)
san mateo county
,
southern california
,
veterans
,
military
,
religion
,
peninsula news

Copyright ©2014 ABC Inc., KGO-TV San Francisco, CA. All Rights Reserved.