Peninsula News

Elderly, at-risk man gone missing after arriving at SFO
Saturday, November 02, 2013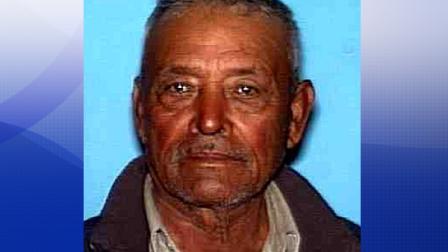 SAN FRANCISCO -- Authorities are asking for the public's help in locating an elderly, at-risk Daly City man who went missing after arriving at San Francisco International Airport from Oregon on Friday.
Benito Segura-Jimenez, 76, arrived at the airport on Friday morning but was not there when his family went to pick him up, as they had arranged, according to the San Mateo County Sheriff's Office.
Sheriff's officials said he was last seen getting into a yellow taxicab at the airport around 9:30 a.m. and was dropped off at the intersection of John Daly Boulevard and Mission Street in Daly City.
Segura-Jimenez suffers from dementia and schizophrenia and speaks Spanish, according to sheriff's officials.
The 76-year-old lives with his family in Daly City.
He is a Hispanic man with gray hair and brown eyes who is 5 feet 8 inches tall, weighs about 150 pounds.
Authorities are asking anyone who locates Segura-Jimenez to check his welfare and notify the San Mateo County Sheriff's Office at (650) 363-4911 or Detective Stephanie Josephson at (650) 740-9136
(Copyright 2014 by Bay City News, Inc. Republication, re-transmission or reuse without the express written consent of Bay City News, Inc. Is prohibited.)
missing person
,
san francisco international airport
,
daly city
,
peninsula news

Copyright ©2014 ABC Inc., KGO-TV San Francisco, CA. All Rights Reserved.