San Francisco News

Rescued sea lion released into ocean
Thursday, October 18, 2012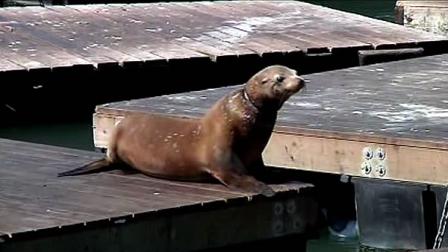 SAN FRANCISCO -- A sea lion that was rescued from San Francisco's Pier 39 after being found entangled in plastic last week was released into the ocean Thursday morning, a Marine Mammal Center spokesman said.
Around 11 a.m., a crew from the Marine Mammal Center brought the animal, nicknamed the "Blonde Bomber," to Rodeo Beach in the Marin Headlands and released it into the ocean, Marine Mammal Center spokesman Jim Oswald said.
The sea lion had been under observation at the center since Oct. 9 when it was rescued from Pier 39's "K-Dock," Oswald said.
The next day, after a veterinarian removed the plastic packaging wrap from around the sea lion's neck, blood samples were taken for testing. The blood tests came back negative for diseases, Oswald said.
The sea lion was agitated and was not eating after being captured, but has since regained his appetite, he said.
"The good news is he's one of the lucky ones that he gets to go back into the wild," Oswald said.
A second entangled sea lion was also spotted at Pier 39 the day of the rescue, but was scared off by a tour boat and has not been seen since.
Anyone who spots an injured or entangled marine mammal can call the center at (415) 289-7325.
(Copyright 2014 by Bay City News, Inc. Republication, re-transmission or reuse without the express written consent of Bay City News, Inc. Is prohibited.)
animal
,
animals in peril
,
rescue
,
marine mammal center
,
san francisco news

Copyright ©2014 ABC Inc., KGO-TV San Francisco, CA. All Rights Reserved.