San Francisco News

Commission to decide fate of CCSF in June
Wednesday, March 13, 2013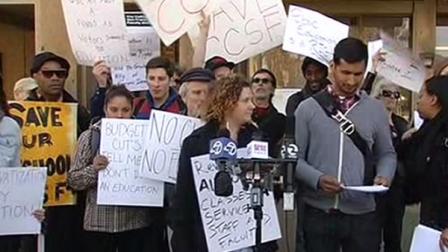 SAN FRANCISCO (KGO) -- City College of San Francisco has until Friday to prove it's more financially secure. If it can't, the college could lose its accreditation and close.
On Thursday, students and staff plan to walk out to protest the cuts being made by the school to balance the budget. Organizers have been handing out protest fliers on campus. They say the school should pursue funding from state and local sources, instead of making the cuts.
Mayor Ed Lee says CCSF is too important to the community to close. "We've got to keep the economics of City College going, we got to keep the decision making going with the interest of the students in mind. This is an incredible institution, we have to have a good, functioning City College. We've been the best tin California, we got to remain the best," he said.
The commission that accredits junior colleges will decide on the school's fate in June.
(Copyright ©2014 KGO-TV. All Rights Reserved.)
san francisco city college
,
protest
,
budget cuts
,
school cuts
,
taxes
,
san francisco news

Copyright ©2014 ABC Inc., KGO-TV San Francisco, CA. All Rights Reserved.