San Francisco News

San Francisco Zoo names rhino after 49ers lineman Alex Boone
Thursday, June 13, 2013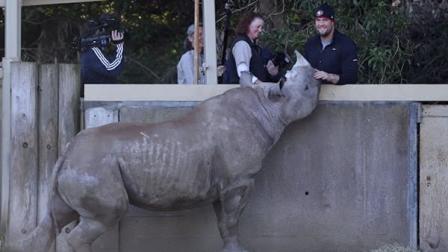 SAN FRANCISCO -- San Francisco 49ers lineman Alex Boone will join San Francisco Zoo patrons on Friday to celebrate the naming of a 4-year-old black rhino after him.
Boone became heavily involved in the zoo in the fall of 2012 and has since created the Alex Boone Animal Education Project to bring local at-risk youth to the zoo, officials at the zoo said.
To honor him for his efforts, the rhino has been named "Boone."
"There are very few black rhinos left on this planet, so to have one named after me is truly an honor," Boone said in a statement.
There will be a VIP event beginning at 2 p.m. at the Nature Exploration Meadow, followed by a public event in which the 49ers offensive lineman will feed the rhino and unveil a plaque, zoo officials said.
The 49ers' Gold Rush cheerleaders and the team's mascot Sourdough Sam will also be in attendance.
(Copyright 2013 by Bay City News, Inc. Republication, re-transmission or reuse without the express written consent of Bay City News, Inc. Is prohibited.)
san francisco zoo
,
san francisco 49ers
,
animal
,
celebrity
,
children
,
san francisco news

Copyright ©2013 ABC Inc., KGO-TV San Francisco, CA. All Rights Reserved.