San Francisco News

SFPD has new info about poisoned meatballs
Tuesday, July 09, 2013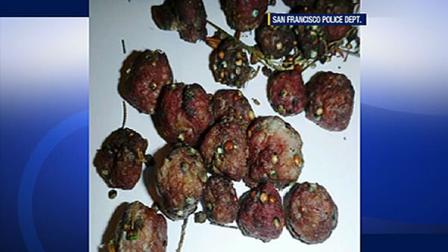 SAN FRANCISCO (KGO) -- Police have new information about poisoned meatballs found in San Francisco, which have already made at least two dogs sick. ABC7 News first reported on the meatballs last week.
On Tuesday night police say meatballs containing rat poison are being lined along buildings and places where dogs relieve themselves.
Hundreds have been found across the city, mostly on Crestline Drive, Parkridge Drive and Burnett Avenue in the Upper Market area.
Police have not made any arrests.
(Copyright ©2014 KGO-TV. All Rights Reserved.)
diamond heights
,
cole valley
,
haight ashbury
,
animal
,
animals in peril
,
food
,
crime
,
san francisco news

Copyright ©2014 ABC Inc., KGO-TV San Francisco, CA. All Rights Reserved.