San Francisco News

Reward increased for info about poisoned meatballs left in SF
Saturday, July 20, 2013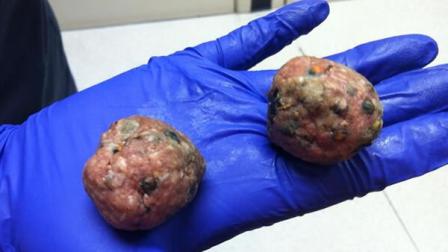 SAN FRANCISCO -- A reward for information about suspects who left out hundreds of poisoned meatballs throughout San Francisco, leading to one dog's death last week, has risen to $5,000, a spokeswoman for the Animal Legal Defense Fund said.
The animal defense organization is teaming with VegNews Magazine and Yelp CEO Jeremy Stoppelman to offer the reward for any information leading to the arrest and conviction of perpetrators in the crime.
"The citizens of San Francisco are up in arms over this sadistic crime," Animal Legal Defense Fund Executive Director Stephen Wells said in a statement.
He said the group is hopeful that the increased reward money might prompt someone to come forward with information.
Police discovered the tainted meatballs in San Francisco's Diamond Heights and Twin Peaks neighborhoods earlier this month.
Police said the meatballs contained strychnine and believe they were left out in a malicious plan to kill dogs.
Oskar, a dachshund who ate one of the poisoned meatballs, died earlier this month, according to San Francisco Animal Care and Control spokeswoman Deb Campbell.
Anyone with information about the identity of the person or people responsible for distributing the meatballs is asked to call police or the Animal Legal Defense Fund at (707) 795-2533, ext. 1010.
(Copyright 2014 by Bay City News, Inc. Republication, re-transmission or reuse without the express written consent of Bay City News, Inc. Is prohibited.)
diamond heights
,
cole valley
,
haight ashbury
,
animal
,
animals in peril
,
food
,
crime
,
san francisco news

Copyright ©2014 ABC Inc., KGO-TV San Francisco, CA. All Rights Reserved.