National/World

Flights isolated at JFK for investigation
Monday, September 17, 2012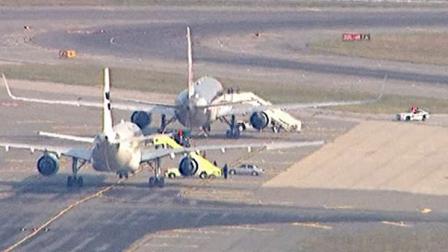 SAN FRANCISCO -- A plane that departed from San Francisco International Airport was one of two aircraft isolated at New York's John F. Kennedy International Airport today after officials received telephoned threats, according to a statement from the Transportation Security Administration.
Threats were made against American Airlines flight 24, which flew out of SFO at 7:28 a.m. bound for JFK airport, and against Finnair flight 5, which flew from Helsinki, Finland, to JFK.
"Both flights landed safely and, out of an abundance of caution, each plane was moved to an isolated area where it was met by law enforcement. Both flights were searched, cleared with negative results, and released," according to the statement from Luis Casanova with the TSA.
The Port Authority Police Department and the FBI investigated the claims and confirmed that they were not credible, according to Julianne Sohn in the FBI's San Francisco office.
(Copyright 2014 by Bay City News, Inc. Republication, re-transmission or reuse without the express written consent of Bay City News, Inc. Is prohibited.)
airline industry
,
american airlines
,
airport security
,
new york
,
san francisco international airport
,
national/world

Copyright ©2014 ABC Inc., KGO-TV San Francisco, CA. All Rights Reserved.