National/World

President Obama meets with biggest names in tech
Tuesday, December 17, 2013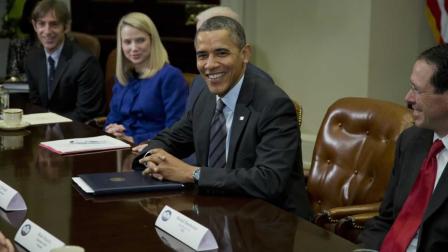 WASHINGTON (KGO) -- President Obama is meeting with some of the biggest names in tech, including the heads of Bay Area based Google, Apple and Twitter.
The Washington, D.C. meeting comes just a day after a federal judge said he believes the National Security Agency's collection of telephone records is "probably" unconstitutional.
The tech industry has criticized some of the most high-profile NSA snooping programs. The White House says the president and tech leaders will be addressing the issue.
They are also talking about cyber security and the rollout problems with the Obamacare website.
(Copyright ©2014 KGO-TV. All Rights Reserved.)
barack obama
,
NSA
,
white house
,
google
,
twitter
,
apple
,
obamacare
,
national/world

Copyright ©2014 ABC Inc., KGO-TV San Francisco, CA. All Rights Reserved.