Bay Area Traffic

Crews installing fifth section of new Bay Bridge tower
Friday, April 15, 2011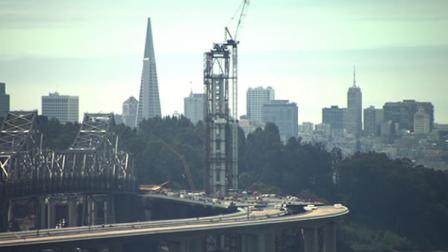 TREASURE ISLAND -- Construction crews are installing the fifth section of the central tower atop the new eastern span of the San Francisco-Oakland Bay Bridge today.
The placement of the fifth self-anchored suspension span tower will bring the tower lift up to 495 feet. Currently, the tower stands 480 feet high.
The last tower section is scheduled to be installed later this year, boosting the structure to a final height of 525 feet.
Construction of the first tower section began last July, with the second following in October, the third in December and the fourth just last month.
Caltrans officials say the $6.3 billion project to build the new eastern span and make the entire Bay Bridge more seismically safe is still on time and is slated to be finished in 2013.
(Copyright 2014 by Bay City News, Inc. Republication, re-transmission or reuse without the express written consent of Bay City News, Inc. Is prohibited.)
transportation
,
bay bridge
,
san francisco county
,
oakland
,
caltrans
,
bay area traffic

Copyright ©2014 ABC Inc., KGO-TV San Francisco, CA. All Rights Reserved.