Bay Area Traffic

Big-rig cleared from Highway 92 connector ramp
Wednesday, July 13, 2011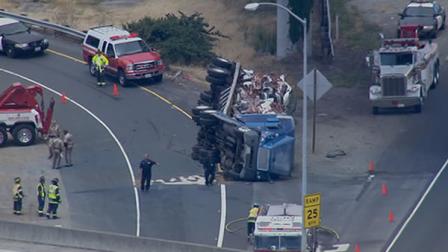 SAN MATEO, Calif. -- Emergency road crews have cleared a connector ramp between state Highway 92 and U.S. Highway 101 in San Mateo where a big-rig carrying a load of wrecked vehicles overturned and blocked the roadway for more than three hours Wednesday afternoon, a California Highway Patrol officer said.
The big-rig reportedly flipped onto its driver's side at about 12:10 p.m., completely blocking the ramp that connects westbound Highway 92 to southbound Highway 101, CHP Officer Kevin Bartlett said.
The truck's driver was not injured in the crash, and no other vehicles were involved, Bartlett said.
It appears the driver failed to negotiate a curve in the ramp, causing a truckload of smashed vehicles to topple onto the roadway, Bartlett said.
The roadway reopened at 3:52 p.m., according to the CHP.
(Copyright 2014 by Bay City News, Inc. Republication, re-transmission or reuse without the express written consent of Bay City News, Inc. Is prohibited.)
crash
,
san mateo county
,
highway 92
,
highway 101
,
san mateo bridge
,
bay area traffic

Copyright ©2014 ABC Inc., KGO-TV San Francisco, CA. All Rights Reserved.