Bay Area Traffic

New troll finds home on San Francisco Bay Bridge
Monday, September 09, 2013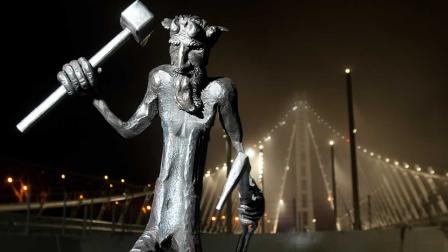 SAN FRANCISCO (KGO) -- It appears the final piece of hardware is now installed on the new eastern span of the Bay Bridge.
The San Francisco Chronicle reports that a new statue of a bearded, spindly legged troll is now in place at an unknown location. The troll, forged by a local sculpture, is meant to be a good luck charm.
It's modeled after a similar statue placed by a steelworker on the old span after the 1989 Loma Prieta earthquake.
That troll was removed on Labor Day and will likely be housed in a museum or park.
(Copyright ©2014 KGO-TV. All Rights Reserved.)
bay bridge
,
earthquake
,
oakland
,
traffic
,
construction
,
labor day
,
transportation
,
san francisco bay
,
bay area traffic

Copyright ©2014 ABC Inc., KGO-TV San Francisco, CA. All Rights Reserved.