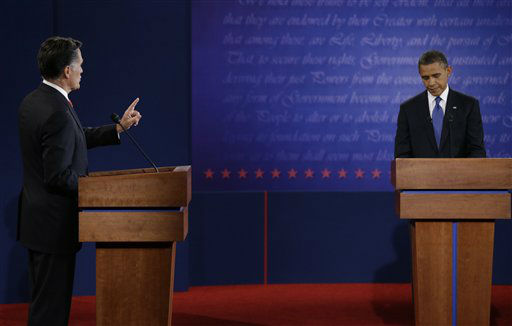 THE FACTS: Romney has promised to balance the budget in eight years to 10 years, but he hasn't offered a complete plan. Instead, he's promised a set of principles, some of which - like increasing Pentagon spending and restoring more than $700 billion in cuts that Democrats made in Medicare over the coming decade - work against his goal. He also has said he will not consider tax increases.
He pledges to shrink the government to 20 percent of the size of the economy, as opposed to more than 23 percent of gross domestic product now, by the end of his first term. The Romney campaign estimates that would require cuts of $500 billion from the 2016 budget alone. He also has pledged to cut tax rates by 20 percent, paying for them by eliminating tax breaks for the wealthiest and through economic growth.
To fulfill his promise, then, Romney would require cuts to other programs so deep - under one calculation requiring cutting many areas of the domestic budget by one-third within four years - that they could never get through Congress. Cuts to domestic agencies would have to be particularly deep.
But he's offered only a few modest examples of government programs he'd be willing to squeeze, like subsidies to PBS and Amtrak. He does want to repeal Obama's big health care law, but that law is actually forecast to reduce the deficit.
(AP Photo/David Goldman) (AP Photo/ David Goldman)