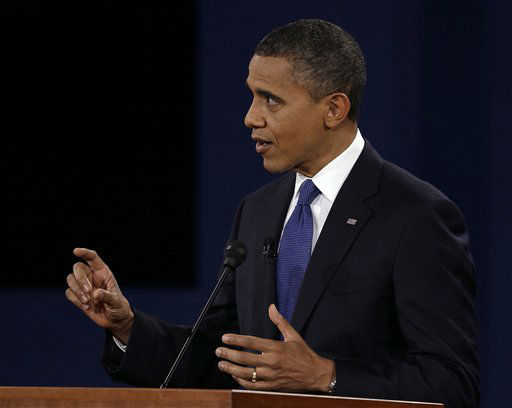 THE FACTS: Obama's claim that Romney wants to cut taxes by $5 trillion doesn't add up. Presumably, Obama was talking about the effect of Romney's tax plan over 10 years, which is common in Washington. But Obama's math doesn't take into account Romney's entire plan.
Romney proposes to reduce income tax rates by 20 percent and eliminate the estate tax and the alternative minimum tax. The Tax Policy Center, a Washington research group, says that would reduce federal tax revenues by $465 billion in 2015, which would add up to about $5 trillion over 10 years.
However, Romney says he wants to pay for the tax cuts by reducing or eliminating tax credits, deductions and exemptions. The goal is a simpler tax code that raises the same amount of money as the current system but does it in a more efficient manner.
The knock on Romney's plan, which Obama accurately cited, is that Romney has refused to say which tax breaks he would eliminate to pay for the lower rates.
(AP Photo/Charlie Neibergall) (AP Photo/ Charlie Neibergall)