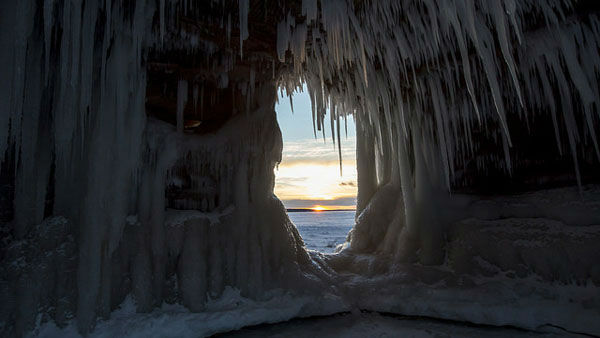 Explorers this year are taking advantage of an infrequent natural phenomenon. Lake Superior is so frozen that certain areas are safe to walk on. That means visitors can hike out to the dazzling display of frozen terrain along the Apostle Islands National Lakeshore including caves, cliffs and frozen waterfalls.
Weather conditions have not been right for this since 2009, and the trek is rarely possible before February, as it was this year.
Andy Rathbun of the St. Paul Pioneer Press, who shot these photos, said he won't soon forget his first visit to the caves.
Standing atop the frozen crust of the largest freshwater lake in the world - by surface area - and hearing the pops and pings of the ice as it moves ever so slightly under massive force is a great experience, he said.
See more of Rathbun's work on Flickr.
(Photo/Andy Rathbun, Pioneer Press)