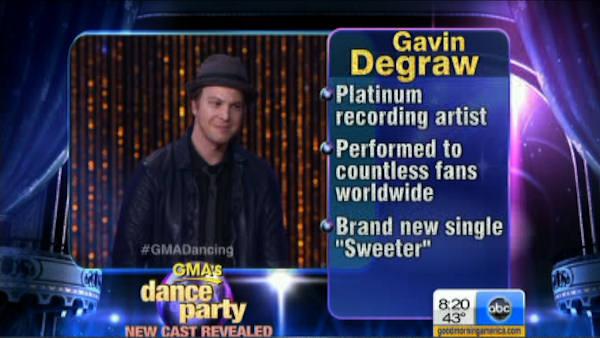 Famed singer/songwriter
Current No. 1 platinum single, "Not Over You"
Bio: Gavin DeGraw broke out as a chart-topping artist with his 2003 debut album, "Chariot," which sold over a million copies, and yielded three hit singles: "I Don't Want To Be," "Follow Through," and the title-track, "Chariot." DeGraw's self-titled second album debuted at No. 1 on the digital sales chart and at No. 7 on Billboard's Top 200 album chart in 2008, earning DeGraw his first Top 10 album. It spawned the hit singles "In Love With A Girl," which Billboard dubbed "a rocking homerun," and the gold-certified "We Belong Together." In 2009, DeGraw released "Free, "an album featuring recorded versions of DeGraw's live favorites. He released his third studio album, Sweeter in September of 2011 and the album's first single, "Not Over You," co-written with OneRepublic's Ryan Tedder, was just certified platinum.
The new season of "Dancing With the Stars" premieres in a live two-hour event on Monday, March 19 at 8/7c on ABC.