Eyewitness News

IronPigs add sizzle with bacon-themed gear
Tuesday, February 25, 2014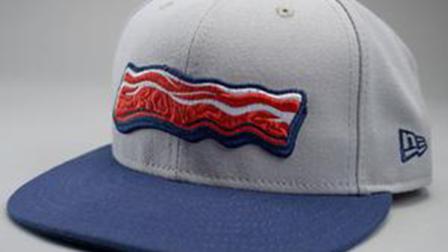 ALLENTOWN, Pa. - February 25, 2014 -- The Philadelphia Phillies minor league affiliate, the Lehigh Valley IronPigs, promise a little more sizzle this season.
The team announced bacon-themed Saturday uniforms.
VIEW IMAGES OF THE UNIFORMS
The uniforms include a cap with a bacon strip and a jersey with the word "Pigs" underlined by another bacon strip.
Players will also wear 'bacon-enriched pants,' according to the team, billed as the first pants to feature a logo within the piping, the team said.
It's all part of the "Smell the Change" initiative by the team.
"We worked tirelessly over the last year to develop new identities that not only embody the rich tradition of the Lehigh Valley but also the spirit of the IronPigs and our fans," team President and General Manager Kurt Landes said in a statement.
In addition to the new uniforms, the team will also start selling "scratch and sniff" t-shirts that smell like bacon.
(Copyright ©2014 WPVI-TV/DT. All Rights Reserved.)
pennsylvania news
,
allentown news
,
lehigh valley ironpigs
,
philadelphia phillies
,
eyewitness news

Copyright ©2014 ABC Inc., WABC-TV/DT New York, NY. All Rights Reserved.