Long Island News

NTSB releases report on Long Island plane crash
Sunday, September 02, 2012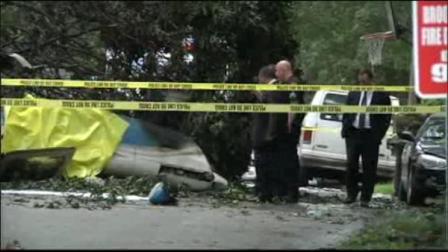 SHIRLEY, L.I. -- A federal report says a small plane that plummeted into a residential neighborhood on Long Island was "slow" and "anemic" on takeoff.
The preliminary report posted Saturday by the National Transportation Safety Board said witnesses noticed an unusually long and slow takeoff by the Socata TB10 - a model known as the "Tobago."
The pilot and a passenger were killed and third badly injured in the Aug. 19 crash.
No flight plan was filed for the trip.
Witnesses reported that after the single-engine propeller plane took off and disappeared from view, a large smoke plume appeared out of the trees near the airport.
The plane collided with trees and a large trash bin in a residential area. Neighbors tried to put out the flames with a garden hose.
---
Get Eyewitness News Delivered
Facebook | Twitter | Newsletters | Text Alerts
(Copyright ©2014 by The Associated Press. All Rights Reserved.)
long island
,
suffolk county
,
shirley
,
national transportation safety board
,
plane crash
,
long island news

Copyright ©2014 ABC Inc., WABC-TV/DT New York, NY. All Rights Reserved.