Long Island News

Girl shot by Taliban receiving life-changing surgery
Friday, December 21, 2012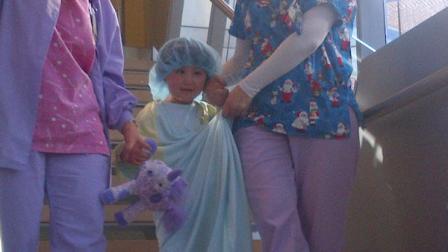 OCEANSIDE (WABC) -- Even after all that little 6 year old Marizeh has been through, she still has a warm, welcoming smile.
She waved to the cameras just about an hour before going into surgery at South Nassau Communities Hospital.
Marizeh was brought here from her remote village in Afghanistan by Staten Island based Global Medical Relief Fund.
The Taliban ambushed her family last spring, murdering her father and brother right in front of her.
"She was being hidden underneath the feet of her father. They shot her in the face and they thought she had died she was there for about three hours until she was discovered," plastic surgeon Dr. Kaveh Alizadeh said.
"The bullet entered from the left cheek and the exit side was above the right orbit," Alizadeh said.
She lost her right eye and she has no ability to breathe through her nose because of the buildup of scar tissue.
"So our task today is going to be to take her to the operating room open up the scar the airwave and probably end up borrowing cartilage from the ear," Alizadeh said.
They'll use that to reline the inside of her nose. It's a remarkable surgery for a remarkable little girl
"She does know she is having surgery and that she's going to be better," Elissa Montanti, Global Medical Relief Fund," said.
The procedure should restore Marizeh's ability to breathe through her nose so she can sleep normally again, and she will receive a prosthetic eye.
---
Get Eyewitness News Delivered
Facebook | Twitter | Newsletters | Text Alerts
(Copyright ©2014 WABC-TV/DT. All Rights Reserved.)
long island
,
afghanistan
,
surgery
,
oceanside
,
taliban
,
long island news
,
kristin thorne

Copyright ©2014 ABC Inc., WABC-TV/DT New York, NY. All Rights Reserved.