New Jersey News

TSA finds inert grenades in passenger's bag
Monday, December 05, 2011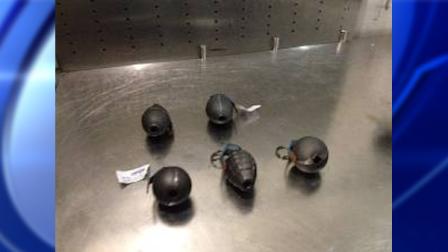 NEWARK, N.J. -- The Transportation Security Administration says its inspector found five inert grenades in a passenger's checked bag at Newark Liberty Airport. But the agency does not believe they were part of any terror plot.
TSA spokeswoman Lisa Farbstein says the explosives were found in a bag of a Brussels-bound passenger Sunday.
The agency says it's not clear why she was traveling with the weapons and that she surrendered them.
The agency says there were no lockdowns or delays because of the discovery. No arrests were made or are expected to be made.
(Copyright ©2013 by The Associated Press. All Rights Reserved.)
new jersey
,
transportation security administration
,
newark
,
air travel
,
airport security
,
new jersey news

Copyright ©2013 ABC Inc., WABC-TV/DT New York, NY. All Rights Reserved.